Character Profile

Picture

Name

Iris Atalanta

Age

17

Birthdate

March 12

Gender

female

Orientation

homosexual

Theme Color

purple

Family

???

Eye Color

pink-purple

Hair Color

black

Skin Color/Ethnic

(half?) Japanese

Fanon/Canon?

fanon

Occupation

race-car driver

Other?

Iris Atalanta is a quiet, tall race-car driver. She often strikes people as "cool" and "mysterious", when in reality Iris can be very sweet and warm-hearted. If she's silent, it's not because she doesn't want to talk to you; she's just too shy to say anything, most likely! Kaori Rask seems to look up to her a lot; is it more than just simple admiration?
Appearance
Edit
Family Issues
Edit
Personality
Edit
Interests
Edit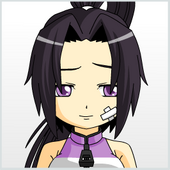 Ad blocker interference detected!
Wikia is a free-to-use site that makes money from advertising. We have a modified experience for viewers using ad blockers

Wikia is not accessible if you've made further modifications. Remove the custom ad blocker rule(s) and the page will load as expected.