Character Profile

Picture

Name

Kaori Rask

Age

16

Birthdate

September 1

Gender

female

Orientation

homosexual

Theme Color

brown

Family

Ashlynn Calypso(cousin), Kiki Calypso(cousin)

Eye Color

brown

Hair Color

purple

Skin Color/Ethnic

light tan / half-Spanish

Fanon/Canon?

fanon

Occupation

Festival Host

Other?

Kaori Rask is a girl at the age of 16-years-old. She is a cool, crazy, fun-loving girl, and loves parties! She enjoys her job as a Festival Host, and often assists MC Emi. She can be a bit of a tomboy, and isn't into girly things. Kaori's mom and Kiki's/Ash's mom were sisters; hence their cousin relationship. She seems to admire Iris Atalanta.
Appearance
Edit
Family Issues
Edit
Personality
Edit
Interests
Edit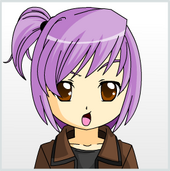 Ad blocker interference detected!
Wikia is a free-to-use site that makes money from advertising. We have a modified experience for viewers using ad blockers

Wikia is not accessible if you've made further modifications. Remove the custom ad blocker rule(s) and the page will load as expected.