Character Profile

Picture

Name

Kiki Calypso

Age

14

Birthdate

December 10

Gender

female

Orientation

heterosexual

Theme Color

fuchsia

Family

Ashlynn Calypso(sister), Kalika Calypso (mother), Kaori Rask(cousin)

Eye Color

emerald green

Hair Color

hot pink

Skin Color/Ethnic

light

Fanon/Canon?

fanon

Occupation

big sister, Agent

Other?

Kiki Calypso is a girl at the age of 14-years-old. She is the older sister of Ashlynn Calypso, and the younger cousin of Kaori Rask -- related by their mothers being sisters. Kiki is usually shy; but with the right motives, she can be very brave.
Appearance
Edit
Family Issues
Edit
Personality
Edit
Interests
Edit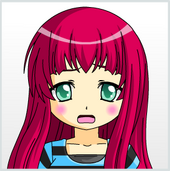 Ad blocker interference detected!
Wikia is a free-to-use site that makes money from advertising. We have a modified experience for viewers using ad blockers

Wikia is not accessible if you've made further modifications. Remove the custom ad blocker rule(s) and the page will load as expected.